A brand new cycling sportive, Samaritans Cycle,  was launched in 2017 to support a hugely worthwhile Buckinghamshire charity. Every 15 minutes, night and day, 365 days a year, one of Chiltern Samaritans 100+ trained volunteers starts a dialogue with someone who is experiencing emotional distress. They speak to them on the phone, meet them at their front door in Amersham, respond to their emails or texts. Whether they're scared, isolated or miserable or even planning to take their lives, they support them. As you can imagine it's sometimes a very tough conversation.
It costs them about £30000 to keep this valuable service going. So, they were delighted when High Wycombe Cycling Club agreed to help them run this cycling event and raise some much needed funds. In July 2017, their first event was a terrific success. They attracted 420 cyclists and made £15,000 for Samaritans. Though that was an important measure of the success the real measure was the feedback from participants.
'…..really nice event. Great course and lovely atmosphere at the start/ finish (please keep the beer tent at the end next year – crossing the line and getting a nice cold bitter was perfect).'
'It was an absolute pleasure to take part in your first cycling event. I'll definitely be back should you hold another event and will look to encourage other cycling pals to join me.'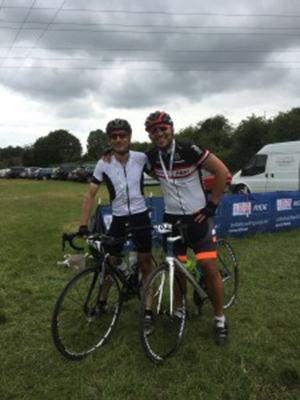 They were so delighted with the outcome that they decided to run the event again in 2018. This is a special year for the Chilterns branch of Samaritans in that they have been operating for 50 years this year. What a record to celebrate!!
The circular Samaritans Cycle routes will begin in the picturesque grounds of historic West Wycombe House, just a stone's throw from the spooky Hellfire Caves, on Saturday 30th June. There will be a 25-mile Dashwood Challenge, as well as the more challenging Hellfire 50 and Hellfire 80-milers – all passing through the majestic Chiltern Hills, with breathtaking views. You sign up and learn more at www.samaritanscycle.com.
All cash raised from the event – ably supported by High Wycombe Cycle Club – will be put into the coffers of the Chiltern Samaritans, which has operated in Buckinghamshire since 1968.
Riders will be treated to a free bacon butty and cuppa at the start provided by Viking Cycling, a delicious ale from Malt the Brewery, a hot lunch will be provided by Grant Thornton, and shiny medal handed out at the end of their ride – all included in the cost of the entry fee. It costs just £15 to enter the Dashwood Challenge and £30 for the longer, Hellfire routes. Parking, en-route feed stations with delicious home made goodies, marshals, route signage, mechanical support and other benefits are also included within the entry fee.
Participants are encouraged to raise sponsorship money for the Chiltern Samaritans, which serves the Amersham, Chesham, High Wycombe, The Chalfonts, Great Missenden, Beaconsfield and Aylesbury areas. Anyone who raises at least £100 for the charity will be refunded the cost of their entry fee.
Chiltern Samaritans helps nearly 30,000 people a year through the 116 123 freephone number, jo@samaritans.org email address, SMS on 07725 909090 and face-to-face support at its branch in 149 Station Road, Amersham.
High Wycombe Cycling Club captain Paul Morrissey said: "Cycling is an exhilarating activity to take part in. Whether you're a complete beginner or a seasoned pro, we know you'll love the Samaritans Cycle. As the local cycling club, we ride through this area all the time – so you can rest assured that we've chosen the best routes for people of all abilities."
Simon Rubin, of the Chiltern Samaritans, said: "After last year's success we want to keep Samaritans Cycle as a regular fixture on our fundraising calendar. The Samaritans Cycle will be a fun and affordable way to keep fit, while having a great day out and supporting a fantastic cause that helps also many people."
Please like & share to spread the word
Samaritans Cycle Celebrates 50 Years Of The Chiltern Branch of Samaritans!!