What is the Samaritans Cycling Festival?
Since we are unable to hold our Samaritans Cycle sportive this summer, we have partnered with FulGaz virtual experience cycling app to hold a virtual 'Chiltern Samaritans Cycling Festival' over the Easter period. Enabling you to participate from the comfort of your own home. There will be 3 routes:
Routes:
26 km Fairly flat
40 km More hill climbing
80 km An even more challenging route
Dates and Timings: We are asking riders to complete one or all three rides between Good Friday, 2 April to Sunday 11 April.
Equipment: All you need is an indoor cycling set-up and to download the FulGaz app (for free) onto your device. You are then able to experience cycling the beauty of the Chilterns Area of Outstanding Natural Beauty form the comfort of your own home. We think you will enjoy/love (?) the FulGaz experience as it has 'real' cinematic footage or each route. Entry is free. We would ask that you either ask for sponsorship or make a donation to Chiltern Samaritans after completing your ride.
Prize-Draw: Once you have completed one, two or three of the routes, you will be eligible for entry into our prize-draw to win.
Simply register by filling in the form below.
Take on the challenge solo or as a group
You can ride the routes on your own or at the same time as your friends and you'll be able to see where they are on the route with the heads up display of who else is doing that route.
Why not set up a zoom call or similar to chat to each other while doing the route?
What do I do next?
To take part you will  need an indoor cycle setup and the Fulgaz app.
To access FulGaz, simply head to the app store on your device, download FulGaz, and set up a free account – no credit card needed for a 14-day free trial. You can ride the Samaritans cycling Festival on a trial FulGaz membership.
If you already have a Fulgaz subscription you can also access the event.
You will also be able to access over 800 FulGaz rides and training programs.
Leaderboards
Being powered by fulgaz means when you ride you can see who else is doing the route you are on and once you have completed the route there are leaderboards  showing everyone's efforts on the three routes.
A chance to win a prize
By signing up and completing one or more of the virtual routes, you will be entered into a prize draw*  every time you complete a route and be in with a chance of winning one of the  following prizes:
  Free entry into next year's Event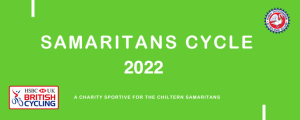 One of  two 4K Action Cams
* Sorry, prizes  UK residents only
Want to raise money for the Chiltern Samaritans?
Take on a Virtual cycling challenge and still have flexibility.
The Chiltern Samaritans cycling festival is a set of virtual rides which are a new and easy way to take part in raising money for the Chiltern Samaritans charity.
You can decide to do just 1, 2 or all 3 routes, check the quick start Fulgaz guide and set up your cycling system, set up a sponsorship page and then let your friends know you are doing the challenge.
Complete anytime over the 10 day period starting on Good Friday 2nd April.
How can you help the Samaritans?
Donations are greatly appreciated but not mandatory to ride 🙂
If you have signed up for a route, why not get your friends and family to sponsor you by setting up a sponsorship page with either Virgin money giving or the SponsorMe site.
When creating your page, they will ask for the charity you are supporting, it is "Chiltern Samaritans"
Set up Sponsorship with Virgin Giving
OR
Set up Sponsorship with Sponsor Me
Our branch in Amersham has 130+ fully trained volunteers taking calls to those in need 7 days/week. No one is paid, but we have operating costs to keep the branch open. Every £ you donate, will help keep our branch open. We handle approximately 25-30k contacts/year. A donation of £20 will help us help 20 people who need support.
Please donate here, it will make a difference
Registration form
To be eligible for  entry into the prize draw, you will have to have completed at least one of the routes and have registered below.  This is offer is only for UK residents.
Want a preview of the routes?
You can take a look at the virtual routes by clicking the buttons, which will take you to the Fulgaz site, where you can preview a low res version of the route. When you take part on Fulgaz the videos will be in 4K.