It's easy to set up your own Fundraising page like the one below, to encourage your family and friends to donate.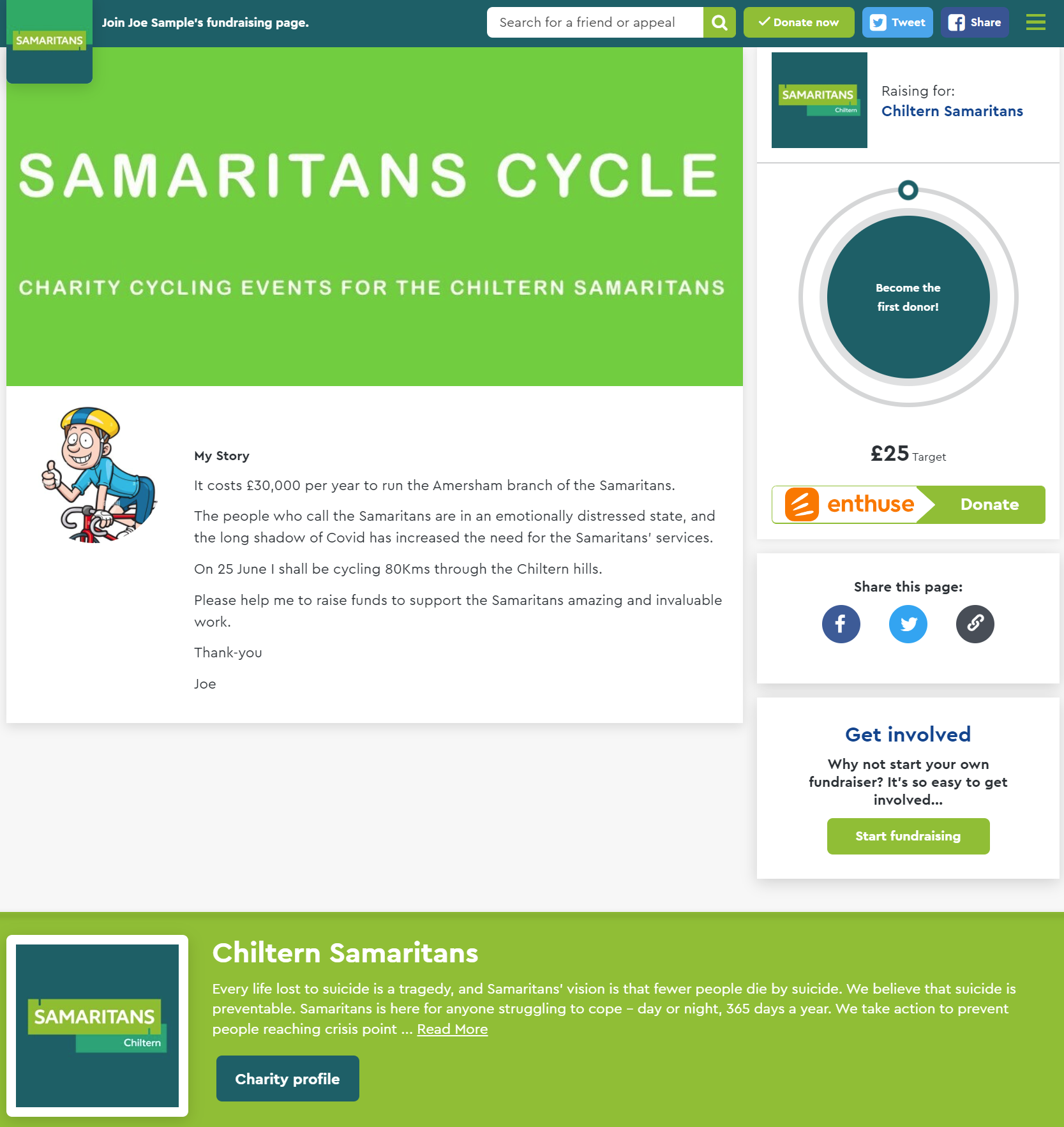 Follow these steps to create your own Samaritans-branded fundraising webpage.
At the end of this process, you will have created an Enthuse login and you will receive a URL to your webpage, which you can share with your family and friends, post to Social Media, and include on your own website if you have one.
You will even be able to connect to Strava so that your activities are automatically posted to your webpage!  How cool is that?
Don't worry, Enthuse and Samaritans and Enthuse take care of hosting your webpage.  It really is easy!
Make a start by clicking on any of the Donate links on the Samaritans Cycle website, then click through to the Chiltern Samaritans enthuseDonate page.  Click on either Fundraise for us (top right) or Start fundraising (bottom right), see below.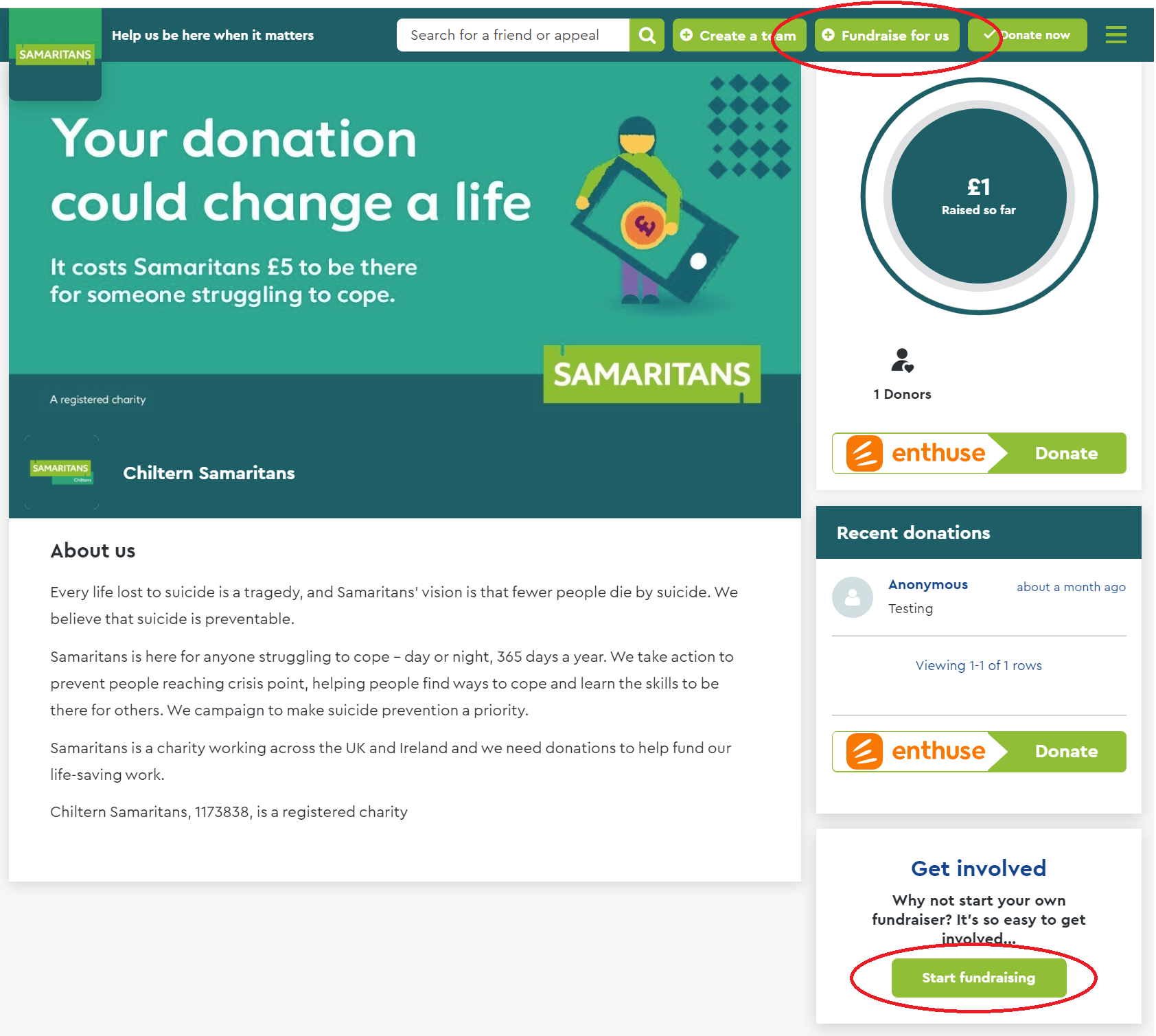 On the next page, Sign up if you are a first-time Enthuse user, or sign in to your existing Enthuse account.
Signing up will guide you through the Enthuse account creation steps.  Follow the prompts to enter your personal details including a password, selecting Personal challenge as your Fundraiser Type.  The example below shows the details for our summer Sportive on 25 Jun 2022.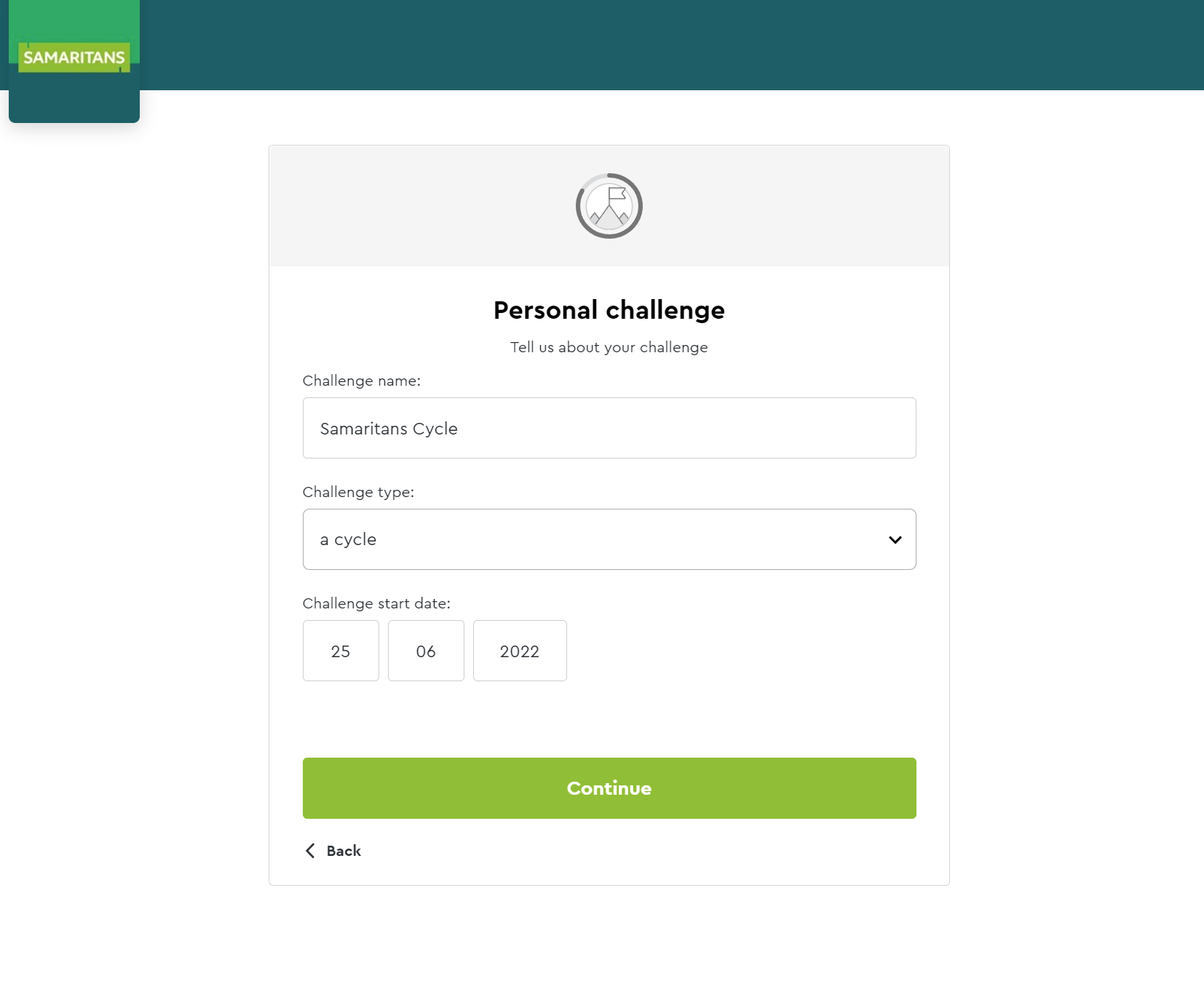 Set your fundraising target, then upload your profile picture (a picture of you, not a Samaritans picture).
Note that the minimum image size is 500 x 500 pixels.
Upload your chosen photo, then move the grid so that your face fits inside the guide circle.  For this example, we've used a cartoon cyclist.  You can see the result on the completed webpage at the start of this guide.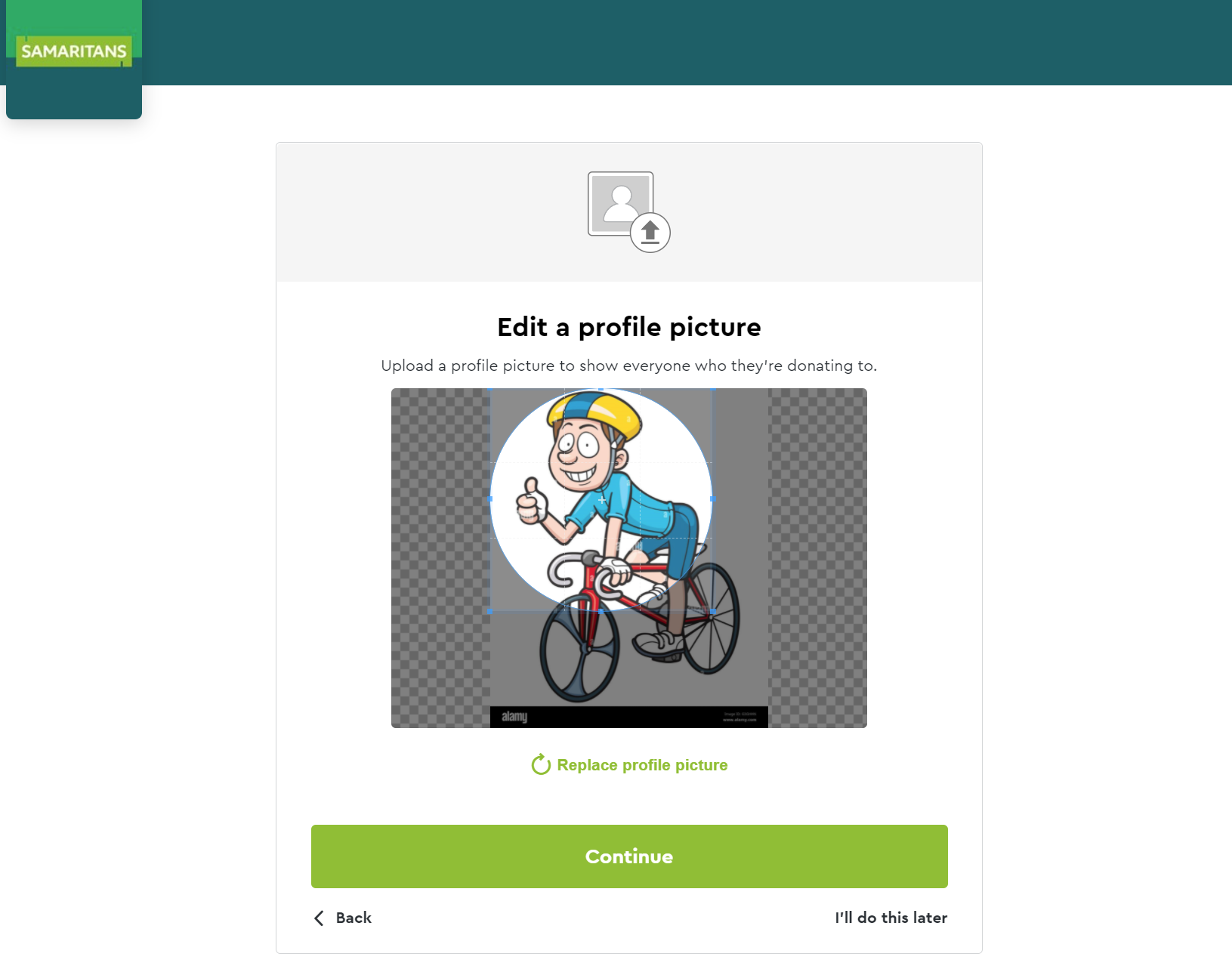 At the next step, you can choose to keep the default Your donation could change a life header image (it's the second picture in this guide, see above) or you can upload an alternative.  We're using our own Samaritans Cycle image.  You can see the result on the completed webpage at the start of this guide.
Note that the minimum image size is 870 x 400 pixels.
Write your story, let your supporters know what you're raising money for.  You can use the following as a basis for your own story.  Your page title will appear at the top left of your webpage and your story will appear centre-stage.  See the completed webpage at the start of this guide:
Continue following the prompts.  Just click Continue if you don't want a Custom URL.
At the All done! Page, click Preview to see your new webpage, Copy to copy your webpages's URL for later, and finally Finish to publish your webpage.  Paste your copied URL into your browser's address bar to see your live webpage; this is what your donors will see.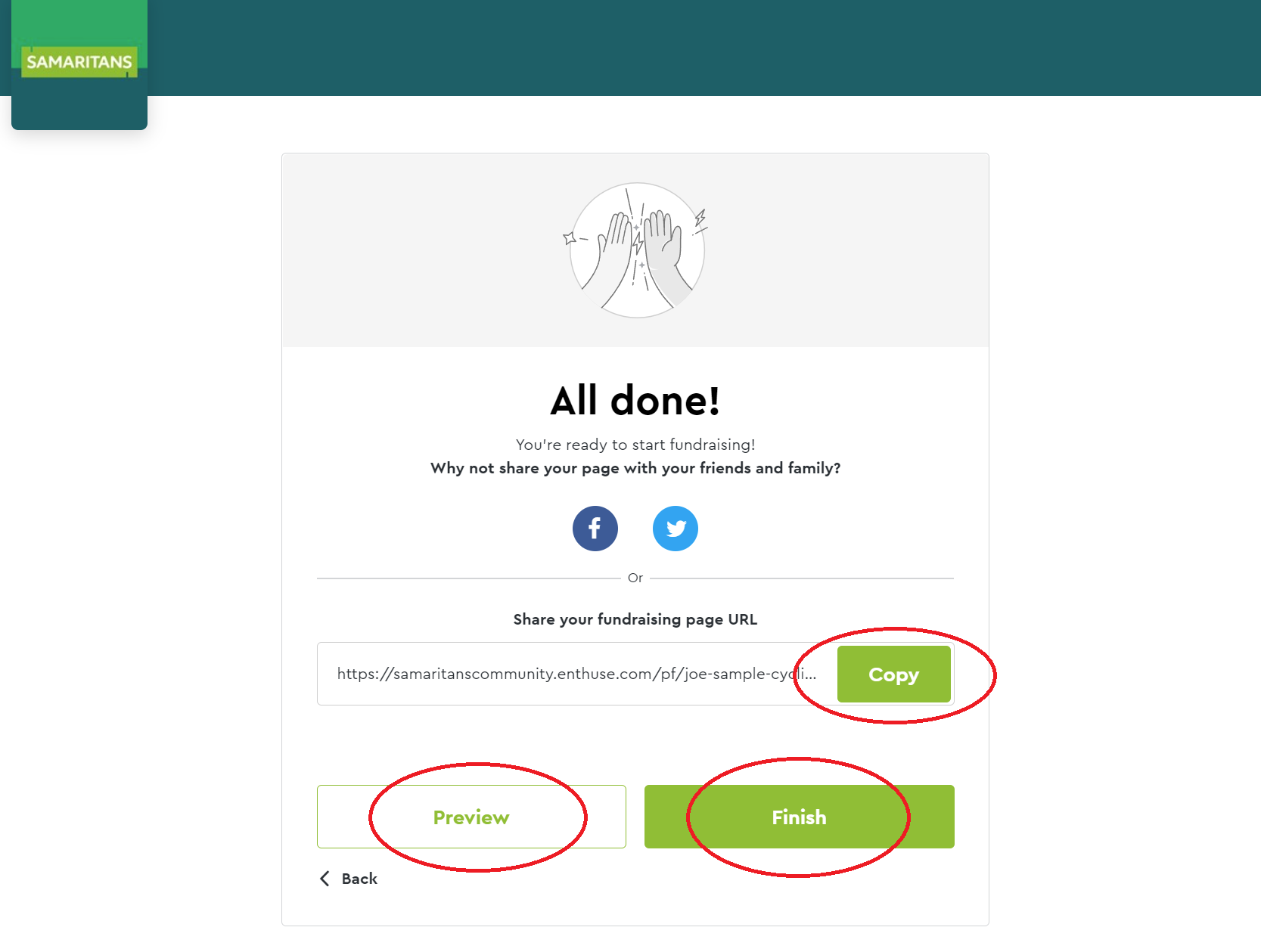 Post your webpage's URL onto social media, email it to your friends and work colleagues, to anyone who you think could help.  Remind them to click on the Donate now button to start giving.
Be sure to keep your fundraising progress up-to-date (eg talk about your training preparations for the big day) to keep you donors engaged.
For some useful tips on how to maintain your webpage and how to close it after your event, click here to see Enthuse's Help for fundraisers FAQ
Are you ready to start?  Click here: